I'm too lazy to dress myself now a days so I let my 3 year old dresses me.
As in my previous post Max is a little trend setter...here's his second check for that. Instead of him it's me! I originally went to
Pac Sun
to look for a t shirt. So the usually I let Max run around (near me) while I browsed. Max came back with a grey loose sweater and bam here it is. He said, "Mommy, here you gow! I like this please, you put on NOW!" So I had no choice I put it on and it fit and thought why not I'd need a sweaterish thing for fall and whatnot. So I bought the damn thing...and he picked the correct size too! I don't know how he does it...lol. Today I did my usual online browsing of
People Magazine
under their section of
Moms & Babies
. I found this! Again Max is a genius! lol I'm pretty sure their grey sweaters wasn't as cheap as mine was but hey Mr. Max fashion genius gets it right again!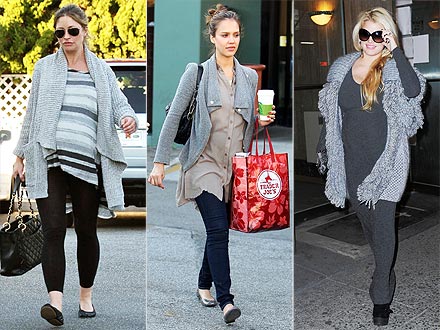 [Rebecca Gayheart Dec 6th, Jessica Alba April 23rd, Jessica Simpson Nov 30th]
[Blonde Mommy (6 months pregnant) & Max Sept 2o11 during our trip to California]
Cher